As we get closer and closer to National Signing Day, many will start to reflect on Michigan's 2012 recruiting class. Michigan has been getting commitments from the usual states, Ohio and Michigan. In addition to Michigan and Ohio the Wolverines (in large part due to Brady Hoke and staff's connections in California) have been able to snag one of California's best prospects.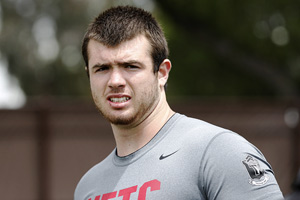 Erik Magnuson
That recruit is 2012 offensive line commit Erik Magnuson. Magnuson stands at 6'6 and 275 lbs., and will be asked to anchor the offensive line for Michigan for many years to come. Magnuson is one of Michigan's most highly regarded commits, because he provides depth and a need at the OL position. Magnuson's best attributes at the OL position are his versatility, athleticism, and his aggressive nature. Magnuson is a consensus 4* recruit on all four of the major recruiting services, and turned down the likes of USC, Stanford, Miami, Notre Dame, Oregon and many others.
Fresh off his in-home visit with Coach Hoke, I caught up with Magnuson for a quick interview.
SimplyComplex:How was your in-home visit with Coach Hoke? What did you guys discuss?
Magnuson:It went really well. Honestly, we didn't even talk about football. My parents just had a few questions for him, but it was really good for my mom to get to know him. Obviously I already knew him well and my dad has spent a good amount of time with him, but my mom only previously got to meet him, so it was good for her to become comfortable with him.
Simply: What kind of impression did Hoke leave on your mom?
Magnuson: M
y mom loved him. It's hard on my mom leaving and going so far, so her getting to know coach so well and getting to know what he's all about off the field and everything was huge.
Simply: What kind of questions did your parents have for Hoke? Were they satisfied with his answers?
Magnuson: My parents just had questions about what the scholarship included and the type of rules that Coach Hoke has off the field.
Simply: You just recently came back from performing in the Army All-American Game. How would you describe your performance there? What was it like to talk with other Michigan commits at the game?
Magnuson: The All-American Game was a great experience and one that I will always remember. I think that I played pretty well considering that I was playing a new position. I felt like if I would have played left tackle than I would have played much better.
Simply: Jordan Payton is trying to set up a visit with Coach Hoke. Have you been recruiting Jordan to Michigan at all?
Magnuson: I had no idea that coach was trying to visit Jordan. I now Jordan already committed to California, but I have been trying to best recruit him all along. I like Jordan a lot and I think he would fit perfectly with what we got going on in Ann Arbor.
Simply: Joshua Garnett had his official with Stanford this past weekend. How heavily have you been recruiting him. I know that you guys talk all the time on twitter about playing together. What would it mean to you if Garnett committed?
Magnuson: Of course I have been recruiting Josh. That's my boy. We are bros. it would mean so much to me having a good friend go to Michigan with me. I can't pressure him into anything, though. He's got to make a decision based on what's best for himself just like every other recruit does. Hopefully he makes the right choice and comes to Michigan.
Simply: What do you think of Ohio State?
Magnuson: I hate them. I can't wait to play and beat the crap out of them.
Erik Magnuson Film